Eat a simple meal together, share in a time of prayer, and chat together about what it might mean to follow the way of Jesus. 
We are just beginning to meet again for Dinner Church but it will be on ad hoc basis. Currently we are meeting at Broughton Fields School.
We begin with a simple prayer together then there is time for conversation and chat as we have our main meal together (jacket potatoes, pasta dish, pizza…depends what those who have cooked feel like doing!)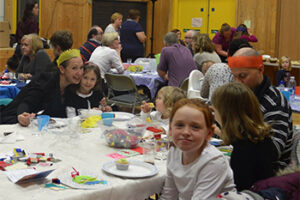 Then it's time for pudding! Always a good selection…..and we finish with a simple sharing of bread & wine (communion).
For little kids there are some toys (and high chairs!), for those who are older a chance to engage with the conversation.
From the very, very earliest time when the Church first began Christians have always gathered to share meals…so why not come and join us!